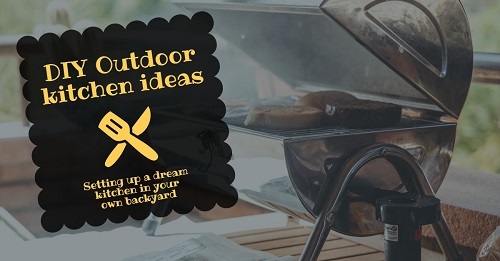 If you've ever dreamed of having your own outdoor kitchen, you might be surprised to learn that you can build one yourself DIY. Outdoor kitchen ideas range from simple to elaborate, and can fit a variety of outdoor spaces.
Using your choice of favorite cooking appliances and other tools, you can create the stylish outdoor kitchen of your dreams. Here's how:
Plan your outdoor kitchen
The best way to transform an outdoor kitchen is by putting together the proper layout and materials. What is your available space? What elements of an indoor kitchen should you include? Consider the total backyard and how much room you need to dedicate to the cooking process to make a design plan and budget.
Prep zone
It's crucial for any kitchen to have sufficient prep space. Luckily, there are some simple solutions for creating prep zones in an outdoor kitchen. A simple folding table or bar cart are excellent space-saving furniture pieces you can use for preparing ingredients or plating food.
As for tools to include in your prep space, go with cutting boards, grilling utensils and cleanup supplies. Having an outdoor sink gives you a convenient way to wash tools and prevent cross contamination while cooking.
Cooking zone
There are many ways to set up the actual cooking area of your outdoor kitchen. One popular choice is an island style kitchen. An island will typically contain the main cooking appliance, such as a stainless-steel grill or wood fired pizza oven.
Airflow is also essential, so watch out for the space above the grill when choosing the perfect spot. Have a fire extinguisher and other safety supplies within reach to stay safe in the kitchen at all times.
Location
Where in your yard will you set up your outdoor kitchen? Depending on the size and layout of the space, you have options. Installing your kitchen against walls or patios is convenient as it will give you quick access to the house. However, check your local fire safety regulations to make sure any fire is a safe distance away from the main structure.
Positioning an outdoor kitchen farther from the house allows more freedom in configuration, but can make logistical factors like connecting to utilities more complicated.
Outdoor decor
Once you establish the basics of your outdoor kitchen, it's time to think decor. Find durable and weather-resistant furniture to use when dining or entertaining outdoors. Bar seating is a fun and simple way to seat multiple people while saving space.
It is recommended to have a pergola or retractable roof or canopy to protect outdoor kitchens and dining areas from the elements. Decorate your choice of overhead structure with festive string lights or lanterns.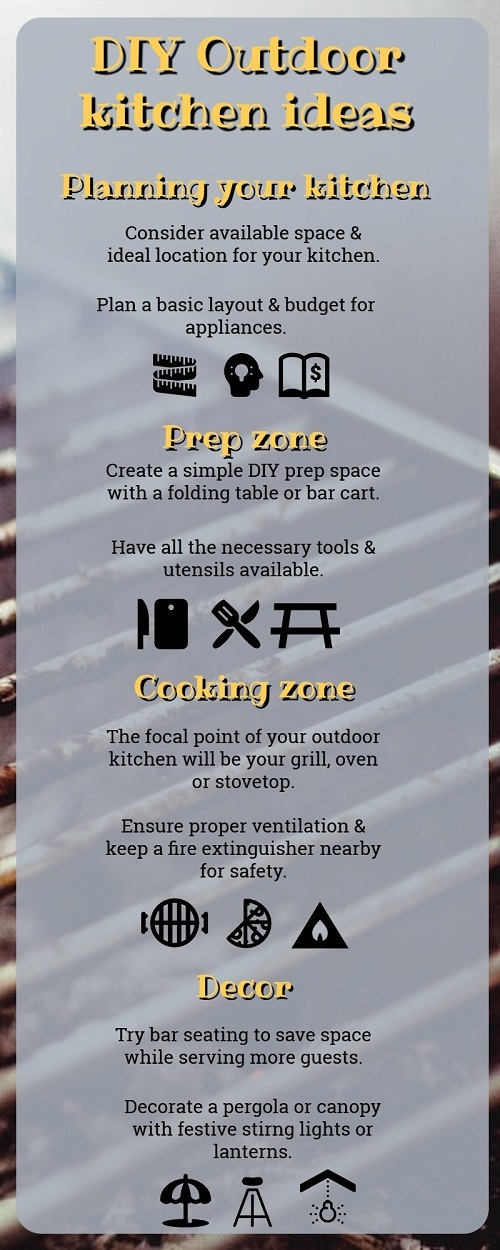 A DIY outdoor kitchen build can be a big undertaking, but your hard work and planning will pay off with every delicious meal you cook in your own backyard.