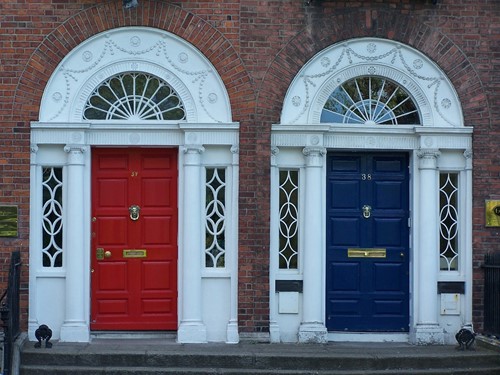 Sometimes the little things add up to major differences, and that idea holds true when updating door hardware. It's not uncommon for relatively inexpensive doorknobs, locking systems and hinges to lose their luster prematurely. Repetitive use and age result in those once shiny finishes looking dull and worn out. Unattractive door hardware elements are like tiny blemishes in an otherwise lovely interior and exterior décor.
The good news for homeowners stems from the fact replacing them remains a relatively simple DIY project. Given the door and jamb holes have already been drilled, all you have to do is select appealing products that match their dimensions. These are strategies that can cost-effectively enhance your décor.
Match Doors With Hinges
One of the décor faux pas that doesn't get the attention it deserves stems from unmatched doors and hinges. Some homeowners focus on doorknobs and deadbolts without considering the hinges. Lovely knobs and locking systems often differ in two ways. They either possess a different color scheme than the hinges, or the knobs and locks appear newer.
If you have reasonably attractive knobs and locking systems, consider circling back and selecting hinges that match. Taking off a door and replacing hinges might seem like too much DIY effort. However, the difference it makes in terms of consistent details is worth it.
Pivot to Door Hardware That Fits Interior Décor
There are wide-reaching reasons door hardware fails to seamlessly fit the interior décor. Sometimes homeowners select fetching doorknobs because they look terrific at the retail outlet. Shiny brass or silvery finishes often affect people. While these may be wonderful products, few people want their doorknobs to attract an abundance of attention.
Consider choosing door hardware that adds a subtle enhancement to the room without drawing your eye. Low-luster finishes such as bronze, pewter and even glass can accomplish this change. Many enjoy superior designs that subtly enhance any space without becoming the center of attention.
Faux Hardware Makes Sense Under Certain Circumstances
Perhaps the most prime example for faux hardware is the rustic hinges homeowners are adding to garage doors. These large, black, barn-style hardware elements are fixed on the outside of automatic garage doors. When they are closed, they add significant curbside appeal. No one is really the wiser that they don't necessarily function. Sometimes décor is purely about aesthetic appeal, and faux hardware remains an option.
Homeowners looking for a low-cost DIY project that enhances their living space may want to consider changing door hardware. Those little things enhanced the quality of a living space and your peaceful enjoyment.